Thank you to Nickelodeon for sponsoring this Baby Shark's Big Show: Super Shark costume!
Get ready to dive into Baby Shark's Big Show! with this Super Shark costume! Baby Shark gets inspired to try his hand at being a superhero while watching his favorite show and whips up his Super Shark costume. You'll only need a few simple supplies to create your own hero gear.
Super Shark Costume
To make your own super shark costume, you'll need:
Light Blue and Yellow Craft Foam
Scissors
Hot Glue
String Or Ribbon
Use the template to cut a fin and mask out of light blue craft foam. Cut the seashell out of yellow craft
foam. Take your glue gun and carefully attach the fin to the back of the hood on your blue hoodie and the
seashell to the front of the mask.
Poke holes in the side of the mask and add string, ribbon, or elastic cord to secure the Super
Shark mask to your face.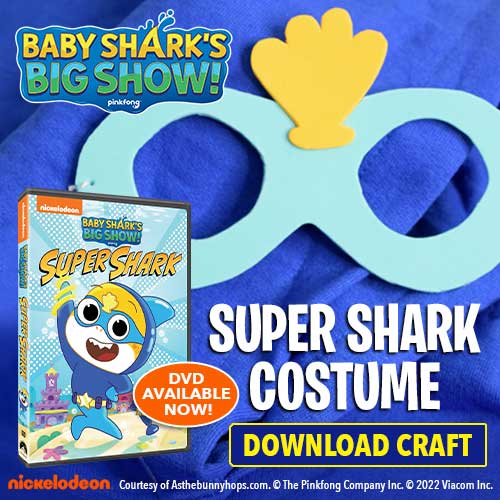 Baby Shark's Big Show! Super Shark is now on DVD!
Want to save this Baby Shark costume for later? Click on the picture below to add to Pinterest!