Thank you to Nickelodeon for sponsoring my Blue's Clues gingerbread house. This post includes affiliate links.
Christmas came early – your Nickelodeon favorites are on DVD this holiday season! To celebrate, I made the Blue's Clues house out of gingerbread!
Blue's Clues Gingerbread House
To make your own Blue's Clues Gingerbread House, you'll need the following supplies and tools.
Supplies:
Gingerbread
Red, Yellow, Purple, and Black Food Coloring
Candy For Decorations
Tools:
Serrated Knife
Small Paintbrush
Begin by cutting Blue's house out of gingerbread using the template. You can make your gingerbread from scratch and cut before baking or you can use pre-baked gingerbread and carefully cut out your shape using a serrated knife. You'll also want a cookie (this cookie can be any shape) that is slightly larger than the bottom of your house to use as a base.
If you can find colored cookie icing, great! If, like me, you only have white on hand, that works too. Add a few drops of food color to warmed cookie icing and use a paintbrush to brush on the yellow house and chimney and red roof. Let that cookie icing harden before you go to the next step which is brushing on the windows and doors.
Use decorative candies to decorate Blue's house, attaching them with icing. One problem with a traditional 3D gingerbread house is the candy falling off. No worries that will happen when you decorate a flat cookie like this. Everything has a chance to set before you turn it upright!
Add detail around the door and top of the chimney with cookie icing tinted black in a small piping bag and allow it to harden.
Create some trees for the front of Blue's house by cutting small notches in green gumdrops. Add a yellow candy on top to act as the star.
Cover your base cookie with icing and sprinkle with decorative white sugar. Use more icing to hold the cookie house and Christmas trees in place. You can place a toothpick behind the house, if needed, to hold the house in place while the icing hardens.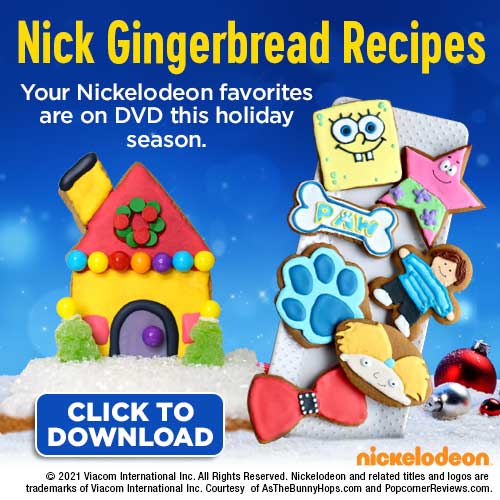 Don't forget to pick up your favorite Nickelodeon titles on DVD now for the holidays!
Want to save Blue's Gingerbread House for later? Click on the photo below to add to Pinterest!