Thank you to Nickelodeon for sponsoring these Bubble Guppies Bubble Eggs to celebrate Bubble Guppies: The New Guppy!
There's a new guppy in town named Zooli, and we're celebrating her arrival—and the arrival of Bubble Guppies: The New Guppy! on DVD—by making a batch of bubble-dyed Easter eggs!
Bubble Guppies-Inspired Bubble Easter Eggs
To make your own bubble eggs, you'll need:
Hard Boiled Eggs
Cups
Liquid Food Color
Egg Dipper or Slotted Spoon
Straw
Dish Soap
Paper Towels
Fill cups that are large enough to hold eggs with about 1/2 inch of equal parts of water and dish soap. Stir in a few drops of food coloring, then blow into the mixture with a straw until the cup is full of bubbles.
Place an egg on the slotted spoon or egg dipper and dip into the bubbles. Add a few extra drops of food coloring on top of the bubbles.
Gently place the egg on paper towels and allow the dye bubbles to pop and dry. Once the eggs are dry they are ready to use.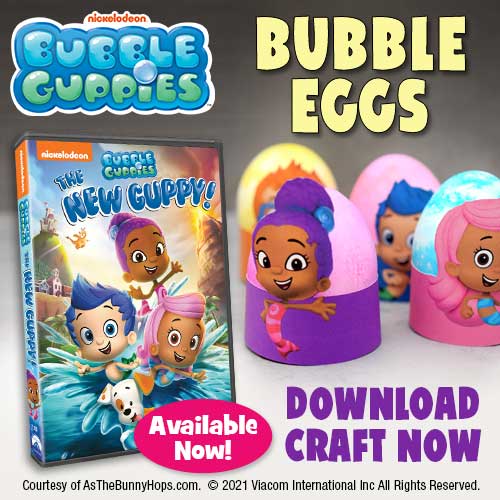 The best way to display your bubble eggs is with a batch of printable Bubble Guppies egg wraps!
Just print out the wraps on white cardstock, cut them out, then use tape to hold the ends in place.
Bubble Guppies: The New Guppy! is now available on DVD!
Want to save these Bubble Guppies Bubble Eggs and Egg Wraps for later? Click on the photo below to add to Pinterest.