Thank you to Nickelodeon for sponsoring these Cat Treats inspired by Paw Patrol: Pups Save The Kitten Catastrophe Crew.
Celebrate PAW Patrol with some delicious cat treats that your kitty will LOVE! The best part of this recipe is that you probably already have everything you need already in your pantry!
Homemade Cat Treats
Ingredients
2 cups dry cat food
1 egg
1 Tablespoon Catnip
Water
Instructions
Grind cat food in a blender or food processor until it's fine crumbs.
Add in egg and catnip and mix.
Slowly add water until the cat food forms a dough-like consistency.
Add dough to a cookie sheet lined with parchment paper.
Use another sheet of parchment paper to flatten the dough. (It will be very sticky!)
Cut out shapes using a knife or cookie cutter.
Bake at 350 degrees for about 15 minutes or until shapes are crispy, like crackers.
Using the food you know your cat already loves means these treats—with that extra dash of catnip—are sure to be a hit with your sweet kitty.
Paw Patrol: Pups Save The Kitten Catastrophe Crew arrives on DVD September 21!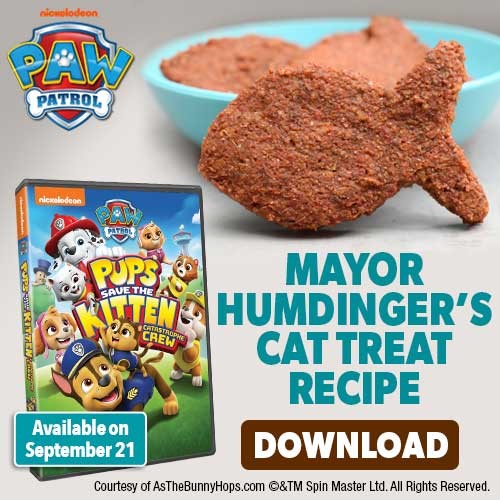 Want to save these homemade cat treats for later? Click on the photo below to add to Pinterest!