Huge thanks to Nick Jr. for sponsoring these eggshell seed starters to celebrate Spring Is Here's arrival on DVD!
There are many skills I have, but a green thumb is not one of them. I can, however, get seeds started. Keeping them alive? Not so much. Luckily when it comes to kids' crafts, that initial cute little sprout is more than enough to keep the little ones entertained. If you do have a green thumb? Even better! You can get the party started in your garden with a few simple steps!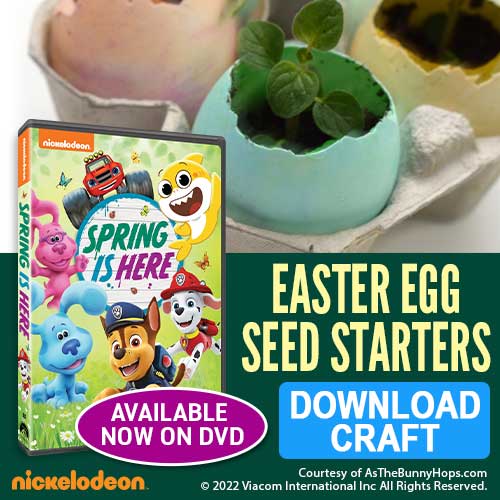 The easiest way to get started is to start collecting your eggshells as you crack them and putting them aside after washing them out. You'll just need to crack around the top rather than in the middle if you want to use them for seed starters.
For a little bit of extra springtime fun, I colored my eggs with dye from the dollar store. This is totally optional, but adding a little color is never a bad idea!
Once your eggshells are collected, just add in a little potting soil, push in your seeds, and keep things watered. Depending on what you planted you'll have sprouts in just a few days!
Catch your Nick Jr. favorites on the Spring is Here DVD, available now!
Spring is here with Nickelodeon and friends! Play an outdoors game of Blue's Clues & You!, learn about the seasons and how everything grows in different ways, like fruits, vegetables, even you and Blue too! Watch the PAW Patrol hop into action to save the Adventure Bay Easter Festival from wild bunnies. Plus, when an underwater storm rains on Baby Shark and William's fun, they discover how to have fun indoors.
Want to save these eggshell seed starters for later? Click on the photo below to add to Pinterest!