Thank you to Nickelodeon for sponsoring this light-up jellyfish umbrella! This post includes affiliate links.
If you're wondering if I had a Halloween costume this year, the answer is "sorta". My only opportunity to dress up was during a work Zoom call. I did, however, spend that entire call in the dark holding up my light-up jellyfish umbrella I made to celebrate The SpongeBob Musical. You gotta make things festive wherever you can!
It's time to grab your glue gun – and maybe a few pairs of nitrile glove to help you avoid finger burns – to make your own jellyfish umbrella!
Light-Up Jellyfish Umbrella
Materials
White Tulle
Pink Tulle
White Wire Ribbon
Thin White Ribbon
Clear Packing Tape
Instructions
Cover outside of umbrella with at least three layers of white tulle.
Use hot glue gun to carefully attach the edges of the tulle to the inside bottom edge of the umbrella. Trim off any excess tulle after gluing.
Bunch up pink tulle and use more hot glue to attach it to the inside of the umbrella.
Pleat white wire ribbon to create jellyfish tentaacles and glue the tentacles to the bottom of the umbrella.
Glue pieces of thin white ribbon between the wired tired around the bottom of the umbrella.
Use hot glue to attach tentacles made from the string lights around the bottom of the umbrella and weave the extra lights through the tulle at the top of the umbrella.
Hide the battery pack underneath the umbrella and use packing tape to hold it in place.
This light-up jellyfish umbrella is fun for dress-up play or a costume. You could even hang it up using a little fishing line to create a super cute nightlight!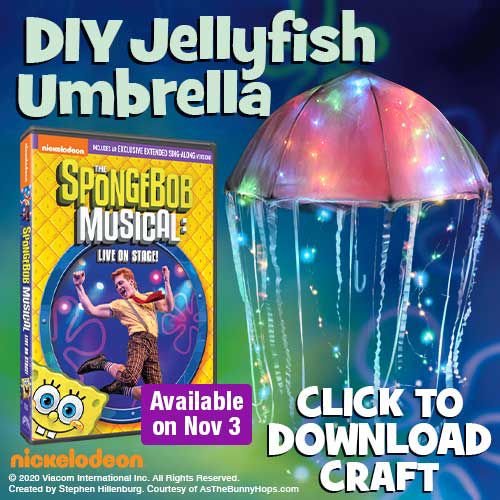 Looking for even more under the sea fun? The SpongeBob Musical: Live On Stage is available now!
Want to save this light-up jellyfish umbrella for later? Click on the photo below to add to Pinterest!