These DIY patriotic drink glasses were sponsored by Bigelow Tea.
Do you ever find a craft you want to make, then look up the instructions only to find it requires some expensive piece of equipment that you don't own? Don't worry. These patriotic drink glasses are so easy a child can make them. And they only cost a few dollars to make.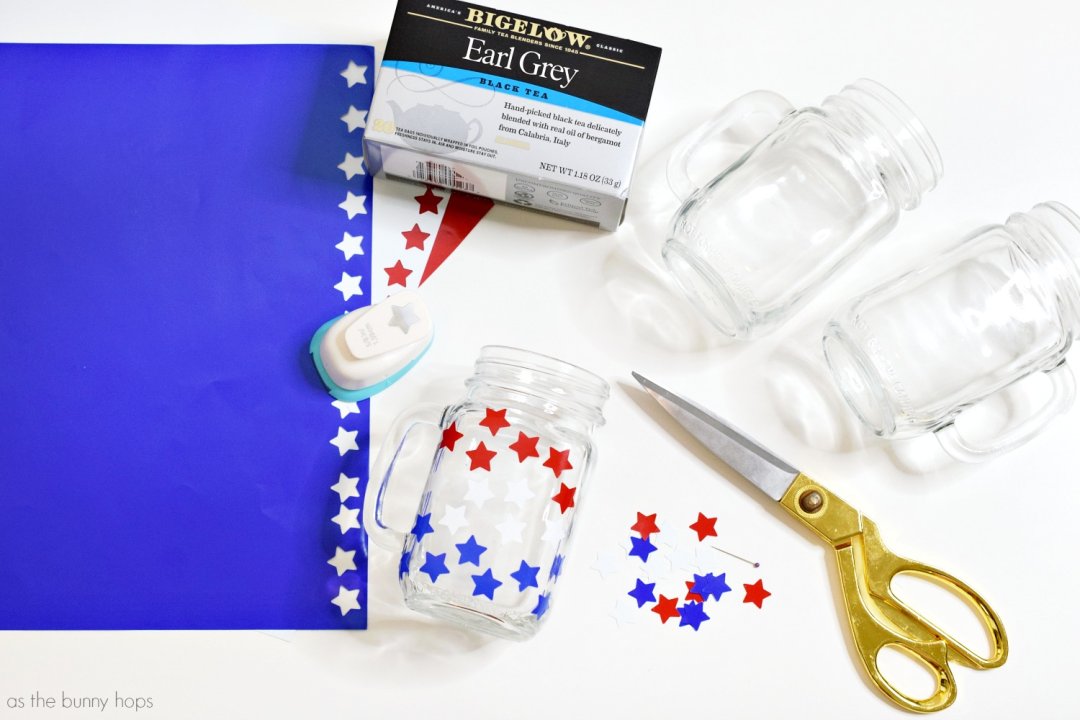 These red white and blue star glasses are the perfect way to celebrate Memorial Day or the 4th of July. They also pair nicely with iced Bigelow Earl Grey Tea.
How To Make Patriotic Drink Glasses
Pick up some red, white and blue vinyl from your craft store along with a star paper punch at your craft store. That's all you need to make your patriotic glasses. Punch out a handful of stars in each color.
Peel off the backing and apply the vinyl stars to your glasses. The backing should peel off easily, but if you do have any trouble, a safety pin can help you separate the backing from the vinyl. You can follow a pattern or place the stars randomly. It's impossible to mess up this simple craft.
The only thing that's left is brewing up an easy batch of Bigelow Earl Grey Tea. American made Bigelow Teas are the perfect way to way to celebrate the patriotic summer holidays. You can tea proudly with Bigelow knowing you've made the right choice for you and your family.
How to make Bigelow Iced Tea
Steep six tea bags in 8oz of hot water for 10 minutes. Pour into a pitcher. Add 24 ounces of cold water and stir. Since I'm from the south, I'd be remiss if I didn't say "sweeten to taste". It's just what we do.
Pour your tea into your patriotic drinking glasses and enjoy!
Depending on what vinyl you use, the glasses should be top rack dishwasher safe. For extra protection, wash by hand.
Want to save these patriotic drink glasses for later? Click on the photo below to add to Pinterest!