This shop has been compensated by Collective Bias, Inc. and its advertiser. All opinions are mine alone. #NothingLikeAHug #CollectiveBias
I'm going to let you in on a little secret: I almost never give out DIY gifts. (Movie junkets being the one exception.) I'm not sure why I don't do more DIY gifts considering how often I'm actually working on DIY projects. I think I'm afraid people would rather I just buy them things. Just this once, though, I decided to change that. I contacted my cousin, who's expecting a new addition in a few weeks, and asked if they'd like something for their nursery. And with that, my DIY sports-themed nursery letters were born! Get it? They were born?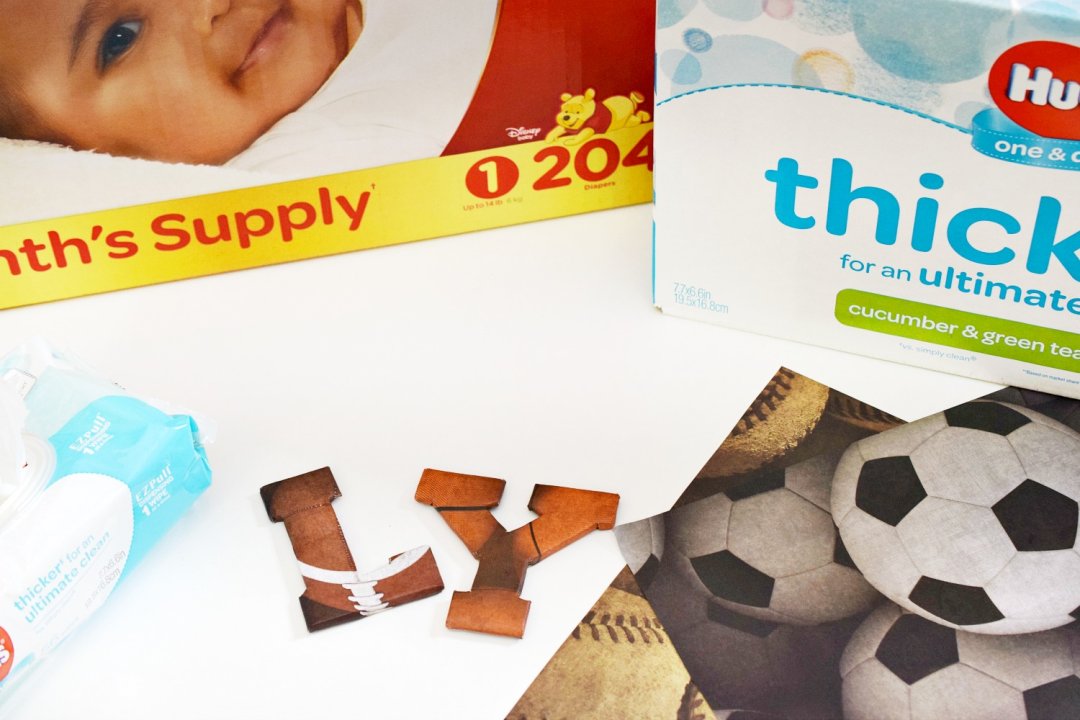 I hopped over to Sam's Club to pick up Huggies® Little Snugglers and Natural Care Wipes. You can't go wrong with a practical gift like diapers, and I use Huggies wipes every day to clean up messes when I'm crafting. Plus, those boxes give you tons of cardboard for making letters. Click on the boxes in the photo above to buy now from Sam's Club.

The baby's name will be Clay Andrew, so I decided to keep my letters on the smaller side because of the long name. The larger your letters, the easier they will be to make, though, so keep that in mind. Start by printing out your letters in the font and size you choose on regular copy paper. I used the "freshman" font, as it fits the sports theme. The lack of curves in the letters also made it easy to cut out.
Use a craft knife and a ruler to cut out your letters. Make sure you're cutting on a safe surface like a cutting mat when you do this.
Once you've cut out your letters, brush decoupage medium on the front of the letter and on the back a piece of sports-themed scrapbooking paper. Press the letters firmly onto the paper and allow it to dry.
Once your letters are secured to the paper, use your craft knife to score notches where you'll need to fold the paper.
Brush more decoupage medium onto the paper where you are folding and press it onto the back of your letters. Hold it in place until the paper is sticking. Decoupage medium dries quickly, so this should only take a few seconds. You will still want to take your time as you do this to make sure everything has securely adhered. Keep your Huggies wipes handy during this process to clean the decoupage medium from your hands as you work.
Finish things by brushing on a generous coat of decoupage medium to the front of each letter.
The letters are very lightweight and can be added to a variety of surfaces with poster putty or hook and loop tape. And yes, I've made the first part of the name…I still have "Andrew" to finish over the next few days!
Enjoy Instant Savings on Huggies items when you visit Sam's Club. Buy any 2 Huggies products and get $8 in Instant Savings from now through November 22, 2017. You can also get an additional $4 savings through Ibotta when you buy Huggies at Sam's Club! Pro shopping tip: download the "Scan & Go" app before your next visit and you'll be in and out of the store in no time. Scan your membership card, scan your purchases, scan your credit card and you're done!
Click the photo below to save to Pinterest.