You might know Tony Bancroft as the animator behind such beloved characters as Cogsworth, Pumbaa, Iago, and Kronk. Perhaps you heard of Mulan, the animated feature he co-directed in 1998? I had the honor of chatting with him about his work as the voice director for Red Shoes and the Seven Dwarfs.
Tony Bancroft Interview
About Red Shoes and the Seven Dwarfs
This outrageous fairy tale spoof starts as Snow White steals a pair of red shoes that transform her into a princess. Meanwhile, a witch's curse turns seven brave princes into dwarfs, forcing them to seek out the princess, hoping for a kiss to break their spell. Together, they must face Snow White's wicked stepmother – who will stop at nothing to get her precious shoes back – and, along the way, learn that true beauty lies within!
Wooden Bears Puppets and Giveaway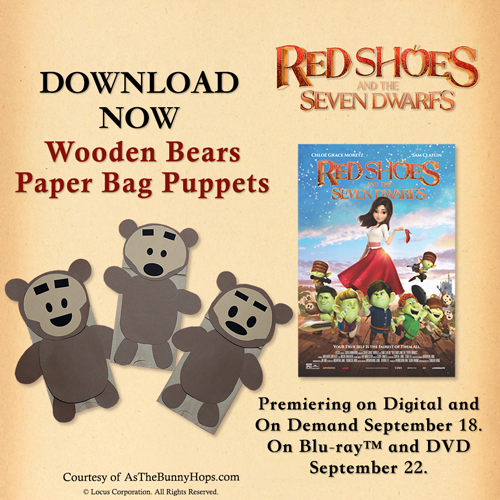 Hop over for the instructions for my Wooden Bears puppets and you can also enter to win a copy of Red Shoes and the Seven Dwarfs on Blu-ray!