I partnered with Locus Corporation and Lionsgate Entertainment to create these Wooden Bears Paper Bag Puppets to celebrate the release of Red Shoes and the Seven Dwarfs!
You guys know that Snow White is one of my favorite characters. Now she's back with an all-new twist on the story in Red Shoes And The Seven Dwarfs! This film has a ton of adorable new characters, and three of my favorites are the cute little wooden bears. They were the perfect inspiration for a fun paper bag puppet craft!
Wooden Bears Paper Bag Puppets
Materials
Paper Lunch Bags
Brown and Tan Paper
Instructions
Print bear faces onto tan paper. (You can use white paper to create a color it yourself version of this craft!)
Cut out bear faces.
Glue bear faces onto brown paper and cut out around the edges.
Cut the bears' body, legs, arms, and ears out of brown paper.
Glue face and ears to the top of the lunch bag and body, arms, and legs to the bottom of the lunch bag.
These three bears aren't just adorable-they're super easy to make!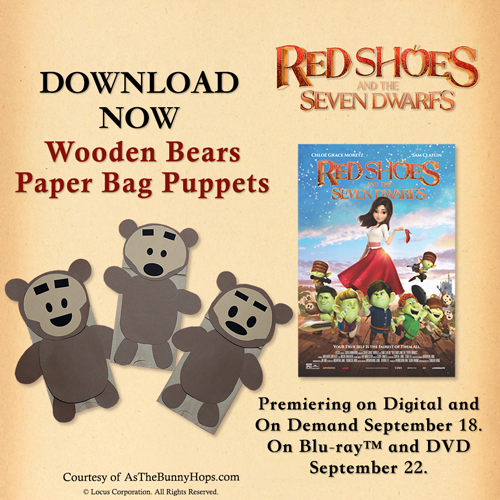 Looking for more Red Shoes-inspired fun? How about some downloadable coloring pages or a sweet apple pie recipe? There's even a chance to win a copy of Red Shoes and the Seven Dwarfs on Blu-ray!
a Rafflecopter giveaway
Red Shoes and the Seven Dwarfs is available now on Digital and On Demand. You can purchase the Blu-ray and DVD on September 22, 2020.
Want to save these Wooden Bears Paper Bag Puppets for later? Click on the photo below to add to Pinterest!